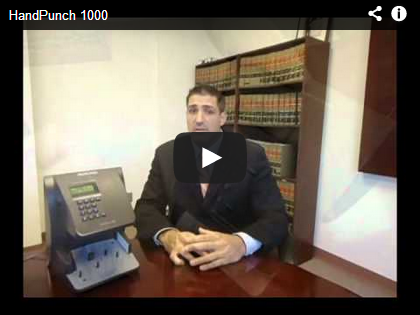 The HandPunch 1000 is a cost effective solution for small companies looking to utilize biometric technology to verify the time and attendance of their employees.
A HandPunch 1000 is the timeclock of choice when the computer that our software will be installed on is within 50 feet. Alternatively, a modem option is also available which allows the hand reader to be located anywhere in the world. So if you have remote offices, you can download data from the clock back to your main location via a phone line.
Although the unit comes standard with a 50 employee capacity, memory expansion is available which will allow up to a maximum of 512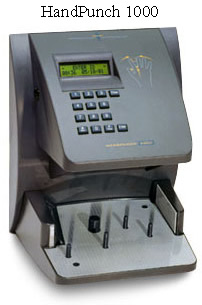 A 50 foot serial cable is usually the method of communicating to this handreader. By simply connecting one end to the clock and the other to your computer, punch data is quickly transferred into our time management software which is then available for your viewing
By being competitively priced, the HandPunch 1000 will allow even the smallest of companies to bring the management of one of their largest expenses, payroll, into the 21st century.
Whether you are a small proprietor of a bagel store or have a chain of locations, you will have the peace of mind knowing that you are not being cheated. You cannot be at work every minute of every day and you certainly cannot be in more than one location at the same time. Don't worry; let this handreader be your eyes and ears!
Give us a call today to find out how this biometric time clock can start saving you money.
We Can Export Time Sheet Data Directly to Your Payroll Provider